V210
Skid Loader
Balancing power and maneuverability in a single machine, the durable, capable V210 is built to keep moving through thick and thin. Boasting 2,100 lbs. of rated operating capacity, this vertical lift Skid Loader combines the power you need to get the job done with mobility that makes space-constrained worksites a breeze to navigate.
| | |
| --- | --- |
| Rated Operating Capacity at 50% Tipping Load | 2100lbs / 952kg |
| Overall Operating Height - Fully Raised | 158" / 4013mm |
| Dump Reach - Full Height | 33.5" / 851mm |
| Overall Length with Bucket | 139"/ 3543mm |
View All Skid Loaders
Product Features
Precision in the palm of your hand
Take advantage of this machine's ability to perform zero-radius turns with ergonomic and simple-to-use joystick controls and a foot throttle. Designed from the ground up for user accessibility, this easy-to-use machine allows operators to perform heavy-duty tasks in the tightest spaces—from newcomers to industry veterans.
Make a safer worksite
Skid Loaders are great at navigating worksites where you're going between the great outdoors and tight, indoor spaces—and it's essential that operators have a clear view of their surroundings to stay safe. That's why our latest Skid Loaders have clearer visibility from all sides of the machine to allow for more precise operation that avoids accidents. And a now standard back-up alarm keeps everyone else in the loop too.
Designed for the long haul
Featuring centralized maintenance points at the rear of the machine and a flip-up cooler, our new Skid Loaders are designed to be easier to maintain over the long haul. Instant remote access and connected digital tools enable efficient diagnosis that allow you to proactively keep up with machine maintenance—reducing downtime and getting you back on the job.
More performance. More productivity.
Operators rely on power and maneuverability when it comes to performing heavy-duty tasks in small spaces—and for our latest Skid Loader models, we raised the bar. Packed with strength and mobility, these compact machines now feature greater lift capacity and breakout forces with faster ground speeds—so they can work just as hard as you do.
New Product Models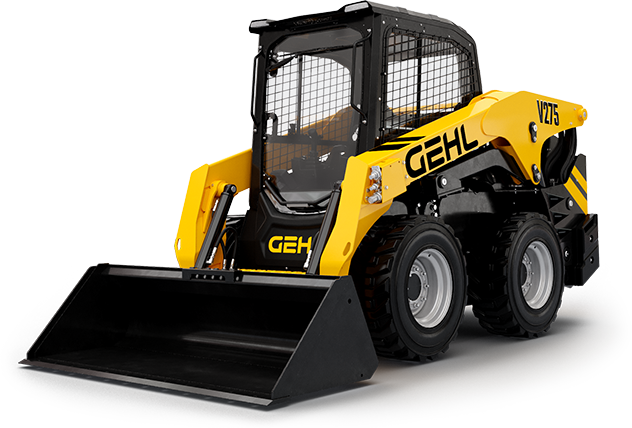 V210
Rated Operating Capacity at 50% Tipping Load
2100lbs / 952kg
Overall Operating Height - Fully Raised
158" / 4013mm
Dump Reach - Full Height
34" / 851mm
Overall Length with Bucket
139" / 3543mm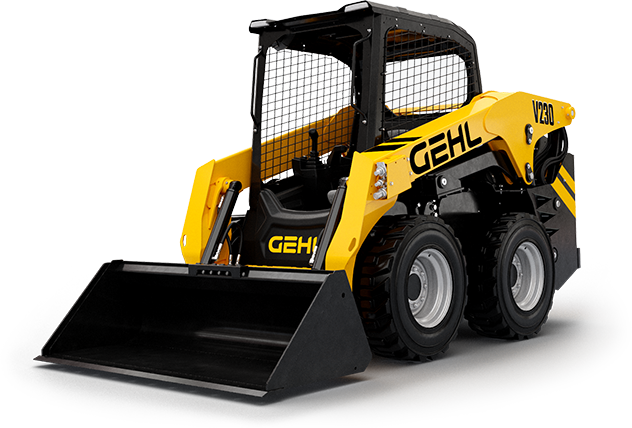 V230
Rated Operating Capacity at 50% Tipping Load
2300lbs / 1043kg
Overall Operating Height - Fully Raised
159" / 4039mm
Dump Reach - Full Height
33" / 826mm
Overall Length with Bucket
141" / 3589mm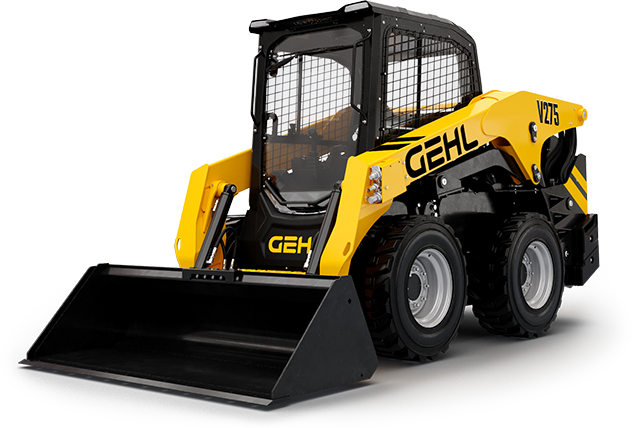 V275
Rated Operating Capacity at 50% Tipping Load
2750lbs / 1247kg
Overall Operating Height - Fully Raised
167" / 4252mm
Dump Reach - Full Height
33" / 830mm
Overall Length with Bucket
150" / 3810mm